With summer coming to a close, we rounded up our favorite local burgers (not major chains like In-N-Out) and have listed them alphabetically by neighborhood:
Bankers Hill
The three B's make Bankers Hill's burger central. Balboa Bar & Grill, exploded on the scene three years ago and quickly took top honors in diners' hearts. They serve six varieties, but we love the Balboa Burger, an old-fashioned, affordable 1/3-pounder which is just $5 during happy hour. 1863 Fifth Ave. (and second location is planned in Chula Vista) (619) 955-8525 or thebalboabarandgrill.com. Bankers Hill Bar + Restaurant's famed BH Burger is a deluxe, but still straightforward, classic with aged white cheddar, pickled red onions and buttery brioche bun with "sub truffled" frites. 2202 Fourth Ave. (619) 231-0222 or bankershillsd.com. Bertrand at Mr. A'sis better known for its spectacular view, but its house-ground Kobe burger (made with different toppings every day, like Hilliker's Ranch eggs and barbecued short ribs) is a worthy match for the sunset. 2550 Fifth Ave., (619) 239-1377 or asrestaurant.com.
Barrio Logan
MishMash, which opened in the barrio in 2016, serves half-pound all-natural beef burgers with a tall mound of crispy fried onion strings, garlic aioli and even goat cheese stuffing. 1805 Newton Ave. (619) 955-8544 or mishmashsd.com.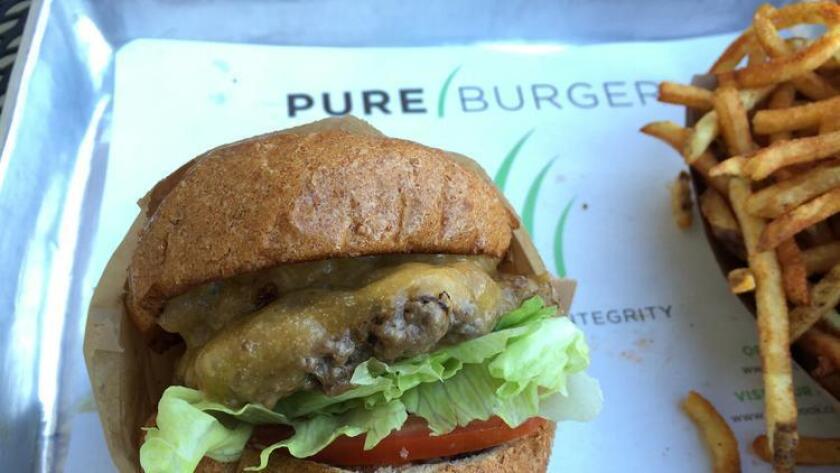 Carlsbad
Pure Burger's ultra-juicy, grass-fed, locally sourced, never-frozen burgers are the centerpiece of this quick-service, family-owned eatery in Bressi Ranch. 2641 Gateway Road. (760) 683-5101 or pure-burger.com. Notorious Burgers has 10 burgers on the menu, but its Notorious is the signature. It's made with a Fulton Farms beef blend, honey-cured bacon, cave-aged cheddar, grilled onions, local tomatoes and a house spicy sauce. 6955 El Camino Real. (760) 431-2929 or notoriousburgers.com. Craft Burger serves eight different half-pound Angus burgers on fresh-baked brioche buns. Simple and good. 300 Carlsbad Village Drive, Suite 120. (760) 453-7974 or craftburgerco.com.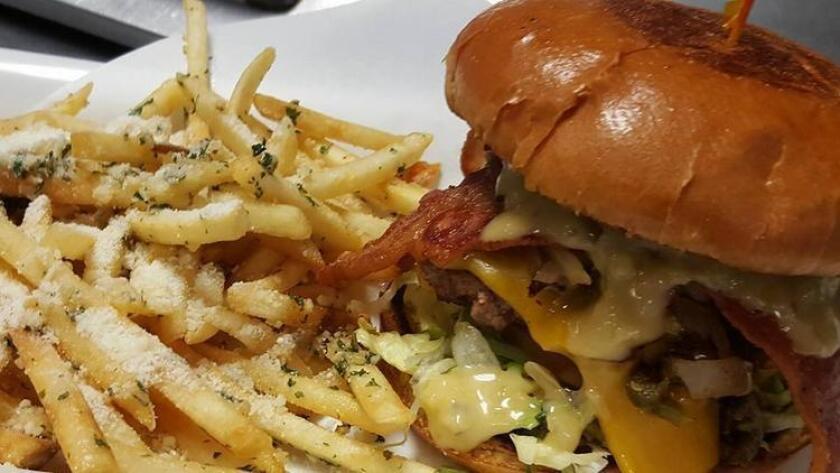 Chula Vista
Halphen Red Burgers has been making its famous burger red sauce for decades. In 2012, it opened its first burger joint. The affordable Angus burgers are stacked high on butter-toasted brioche buns with fixins' and house sauce. 1550 E. H St., Chula Vista. (619) 500-5399 or facebook.com/halphen.red.burgers/. Canada Steak Burger offers super affordable, simply prepared charbroiled burgers with 4- to 8-ounce patties and topping options of gyro and pastrami. 409 Telegraph Canyon Road, Chula Vista and 3604 University Ave. in Southeast San Diego. (619) 420-1300 or canadasteakburger.com. South Cali Steak Burgers is a popular hole-in-the-wall with a huge soup-to-nuts menu, but go for the steak burgers, served with crinkle-cut fries. 301 Montgomery St. (619) 409-7099.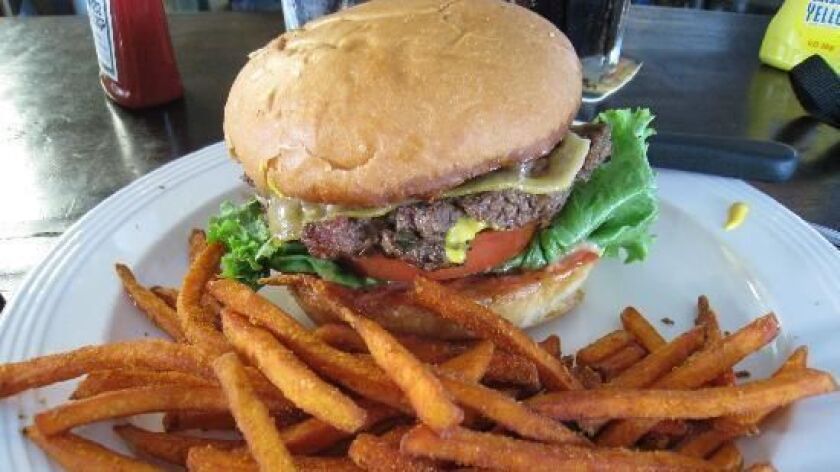 Clairemont
Boomerangs Gourmet Burger Joint is exactly as its name implies. Diners can build their own Angus burger with two dozen toppings including artichokes, Kalamata olives, sun-dried cranberries and even carrots. 4577 Clairemont Drive, Clairemont. (858) 483-9500 or boomerangburgers.com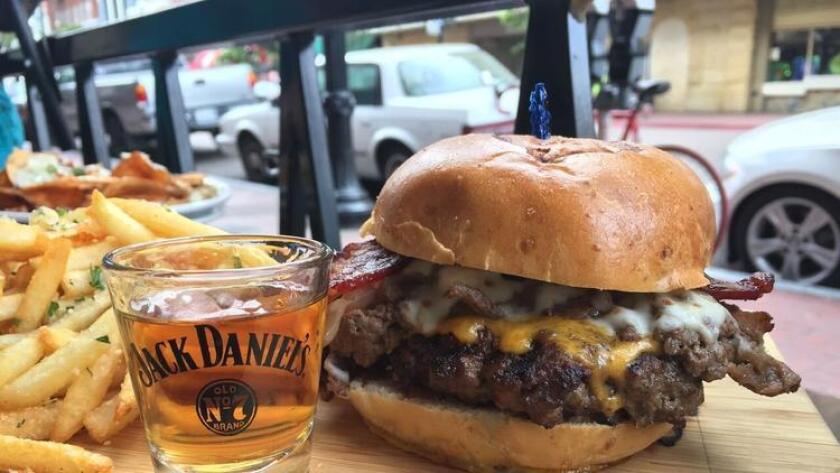 Downtown San Diego
Whiskey Girl's succulent whiskey burger is basted with whiskey, topped with Philly sirloin steak, sauteed onions, bacon and cheddar and mozzarella cheeses on a branded brioche bun and served with garlic Parmesan fries and a shot of Jack Daniel's. 702 Fifth Ave. (619) 236-1616 or whiskeygirl.com. Consortium Holdings' hipster hangout Neighborhood is known for its signature Hood Burger, made with Gruyere and blue cheese, bacon and onion jam, brown butter aioli and arugula. 777 G St., downtown. (619) 446-0002 or neighborhoodsd.com. Werewolf Bar & Grill serves up the Triple Threat, a half-pound patty topped with maple-glazed pork belly, a fried egg and blue cheese aioli. 627 4th Ave., Gaslamp Quarter. (619) 234-0094 or thewerewolf.net. Newcomer All American Burgers offers eight burgers made with 1/3-pound grass-feed beef from Grass Run Farms in Colorado. 409 F St., San Diego. (619) 255 -2800 or allamericanburgers.beer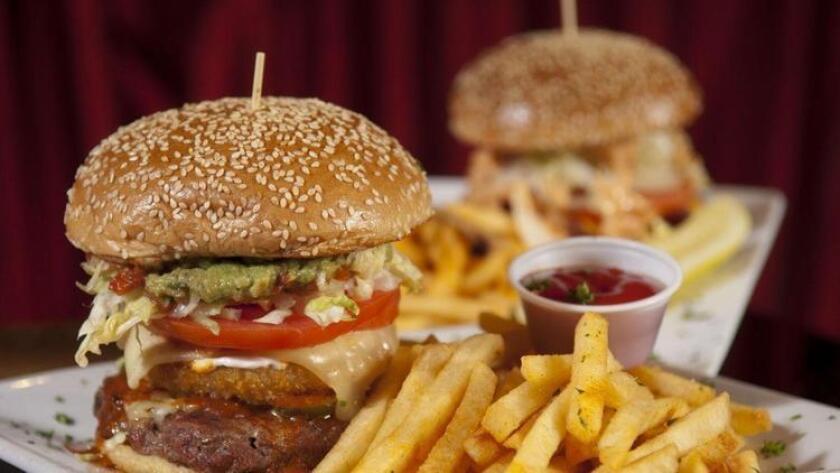 El Cajon
Nicky Rottens Bar & Burger Joint in El Cajon serves 16 burgers, but gourmands try their luck with the Da Ultimate Burga, a mountain of a meal with 2 pounds of all-natural Angus beef and fixins. Finish the $27 burger in 30 minutes and it's free. 3773 Willow Glen, El Cajon. (619) 440-4204 or nickyrottens.com.
Encinitas
Union Kitchen & Tap's Union Burger is a true beauty, with a generous beef patty, a smoky/rich tomato jam and slab of melted white cheddar cheese on a toasted brioche bun. The burger is with optional fried egg, which isn't the least bit necessary, but still a yummy addition. 1108 S. Coast Highway. (760) 230-2337 or localunion101.com. Encinitas Ale House's half-pound burgers include Angus, Kobe Wagyu and wild game burgers and can be ordered in a 2-for-1 special on Tuesdays. 1044 S. Coast Highway. 760 943-7180. encinitasalehouse.com.
Escondido
Burger Bench makes seven different Angus beef burgers served on toasted brioche bun for under $9, but it's worth the extra $2 for the ultra-tender grass-fed Wagyu beef patty. 237 E. Grand Ave. (760) 294-2001 or burgerbench.com. The Wooden Spoon's beloved Spoon Burger is a winner with smoked blue cheese, baconion jam, tomato aioli and house-cut fries. 805 E. Valley Parkway. (760) 745-0266 or woodenspoonsd.com/. Bellamy's Restaurant's burger (served only at lunch or in the bar) has a King beef patty with blue cheese, caramelized onions, house aioli and arugula is delicious. Normally it's $16, but it's half-price during happy hours. 417 W. Grand Ave. (760) 747-5000 or bellamysdining.com.
Fallbrook
Charlie Webster and his late wife, Sandra, have owned the roadside institution Nessy Burgers since 1989, turning otu oversize cooked-to-order, backyard-style burgers that are famous all over North County. The Nessy has a half-pound, never-frozen patty made with a juicy blend of premium chuck, sirloin and mild seasoning. With a toasted bun, American cheese, thick slice of sweet onion, lettuce, tomato and house-made Thousand Island, it's a burger like Dad used to make. 3235 Old Highway 395. (760) 712-1497 or nessyburgers.com
All credit for this delicious list goes to San Diego Union Tribune. https://www.sandiegouniontribune.com/entertainment/dining-and-drinking/sd-et-burger-roundup-20180528-story.html