These loaded Texas Cheese Fries take it to the next level. They are like a big, warm, delicious cheese filled hug.
That may sound strange, but as soon as you dive in and try a few of these cheese fries, you will know exactly what I mean.
Load them up with all the toppings and I promise no one will be able to say no.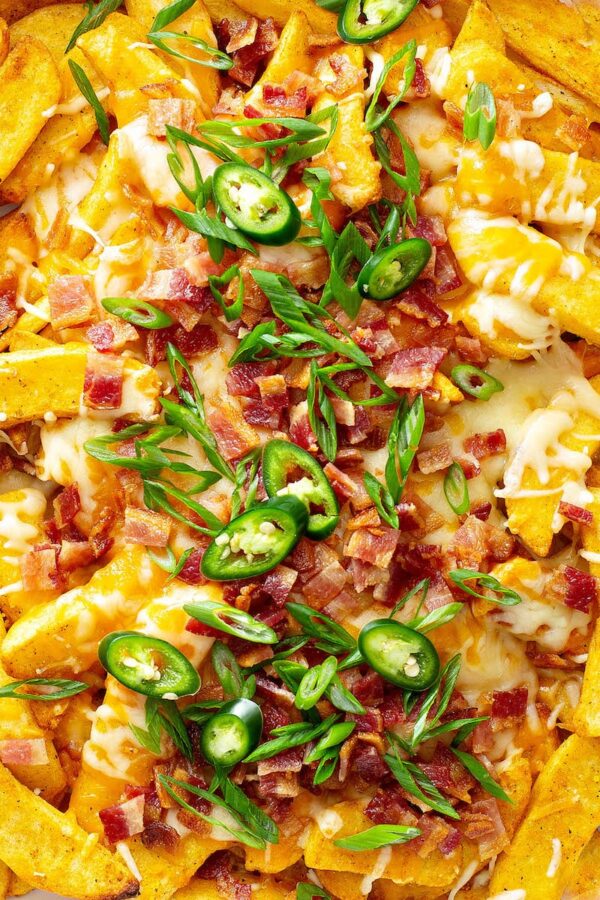 TEXAS CHEESE FRIES TOPPINGS:
There are so many types of Cheese Fries recipes floating out in the world and I love just about all of them.
This is the most classic version, most commonly called Texas Cheese Fries, with melted cheese, bacon, jalapeños and green onions.
I was born and raised in Texas, and for the life of me, I can not tell you what *makes* these cheese fries Texan. Maybe the jalapeños?!
But I can tell you, they are absolutely delicious and full of flavor. Both pickled jalapeños or fresh jalapeños work great — use whichever ones you personally prefer.
Optional fun topping twists on these classic cheese fries:
Blue Cheese: in place of the other cheese or in addition to them.
Chili: a meat style Texas chili is great on top to create chili cheese fries!
Caramelized Onions: always so good.
Nacho Cheese: if you want to go Fair Style, this is the cheese you need.
Shredded Chicken: adding chicken to these, takes an appetizer or side dish and transforms it into a delicious dinner!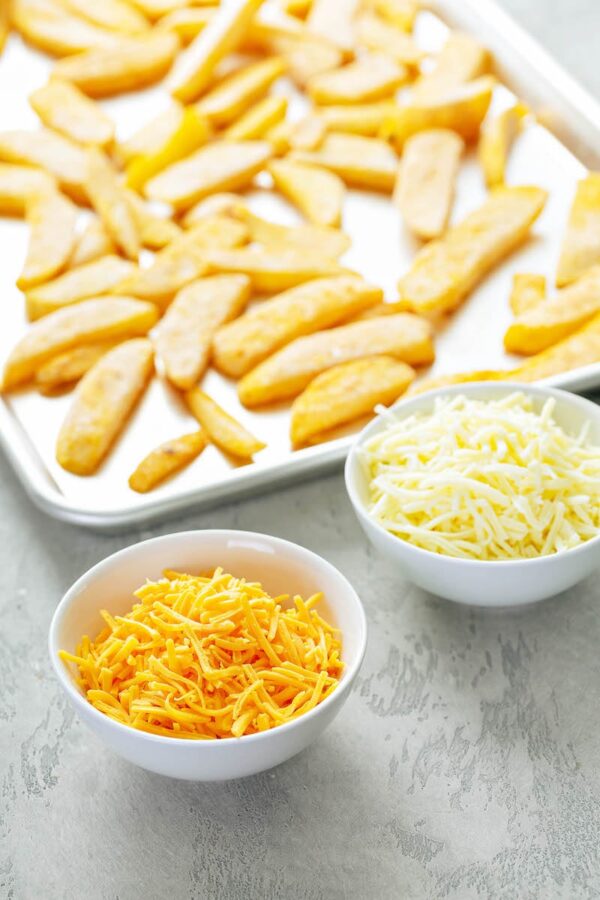 CHEESE FOR CHEESE FRIES
I like to use a combination of cheeses to get the perfect flavor. My two personal favorites are sharp cheddar and monterrey jack.
The one I don't consider to be optional is the cheddar, you definitely want to have the cheddar flavor in your cheese fries.
However, there are a lot of other shredded cheese options you can mix in with it: mozzarella, colby, or pepper jack.
Lastly, if you like it, you can also use 90's themed nacho cheese or queso. Have fun with your Cheese Fries!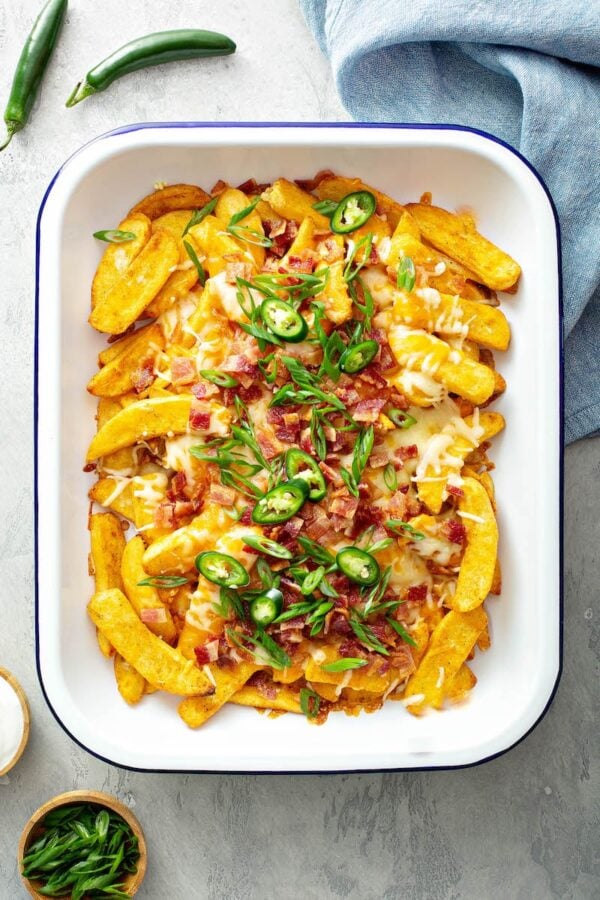 WHAT TYPE OF FRIES?
This is a personal choice, but I think the best Cheese Fries are made with steak fries that you season yourself with seasoned salt.
I don't recommend the already seasoned steak fries they sell in stores because the flavor can be over whelming when combined with all the toppings.
Fast food style thinner fries are a good back up option, however they usually don't hold up to the toppings as well as steak fries.
Also, in a pinch, a crinkle fry is a good runner up to the steak fry. They are thicker and will do a little better than the thin fries.
Prepare the fries however you would like…in a traditional fryer, air fryer or in the oven. You just need hot fries!
If you are preparing the fries in something other than the oven, make sure you still preheat the oven so you can pop the fries in and melt the cheese right at the end.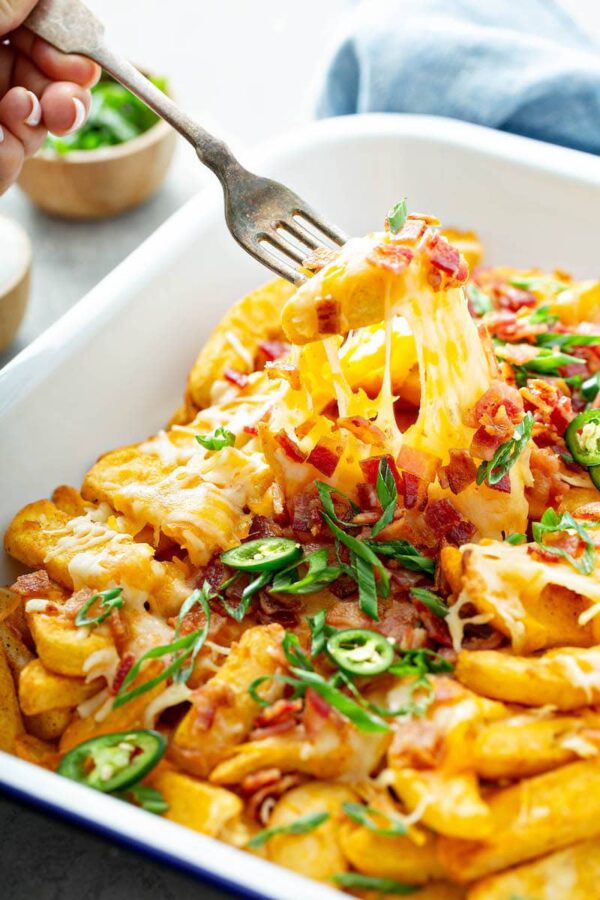 These Texas Cheese Fries are next level in all the right ways. They are always the first to go at a party.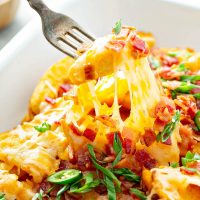 CHEESE FRIES RECIPE
yield: 8 SERVINGS prep time:5 MINUTES cook time:25 MINUTES total time:30 MINUTES
Texas Cheese Fries: crispy seasoned fries are topped with two types of melted cheese and loaded up with crispy bacon, green onions, jalapeños and sour cream!
INGREDIENTS
28 oz frozen steak fries
1 teaspoon seasoned salt
1 cup sharp cheddar cheese
1 cup shredded Monterey Jack cheese
6 strips bacon, cooked and crumbled
4 green onions, thinly sliced
fresh or pickled jalapeño slices, optional
1/3 cup sour cream, optional
INSTRUCTIONS
Line a large rimmed baking sheet with parchment paper. Add frozen steak fries to baking sheet and spread in a single layer.
Sprinkle with seasoned salt and toss to coat. Bake according to package directions.
Once fries are baked, remove from oven and immediately top with both kinds of shredded cheese and return to oven until cheese has melted, about 3 to 4 minutes.
Remove from oven and sprinkle with crumbled bacon, green onions, scallions and jalapeño slices.
Drizzle with sour cream or serve with sour cream on the side for dipping.
NOTES
Add some shredded chicken to these and you take an appetizer or side dish and transform it into a delicious dinner!
All credit for this delicious recipe goes to The Novice Chef Blog. https://thenovicechefblog.com/texas-cheese-fries/