Britain has pubs and Spain has tapas bars, but America's collection of sports bars, taverns, saloons, dives, gastropubs, cantinas, cocktail lounges represents a bar-food tapestry, one that changes dramatically when you cross state lines. Every state has a go-to bar snack, something you see pretty much everywhere you pop in for a round. Oftentimes, you don't even realize how local they are until you leave. Don't believe us? Try ordering some chislic in Mississippi and see what happens. 
In choosing the unofficial bar snack for every state, we looked at a lot of factors. Some are completely unique to the states they call home. Some are prevalent in other areas, but are extremely ubiquitous (or even invented) in their designated state. None are entrees (sorry Jucy Lucy and hot dogs), though if you want to sit down and eat two pounds of tater tots and call it dinner, good on you. Either way, whatever state you're in, keep an eye out for these delicious drinking snacks. 
Alabama: Fried crab claws
Alabama's seafood-loving Mobile Bay is home ot T.P. Crockmiers, the state's oldest bar. Their signature bar snack is deep-fried crab claws. Many others along the Gulf Coast have followed suit. A hot basket of half-peeled claws with a thick peppery batter is perfect for easy cocktail-sauce dunking. Taking one of the sweetest, most delicate fruits of the sea and deep-frying it is an unsurprisingly fantastic move.
Where to get great ones: Go with the OG at T.P. Crockmiers.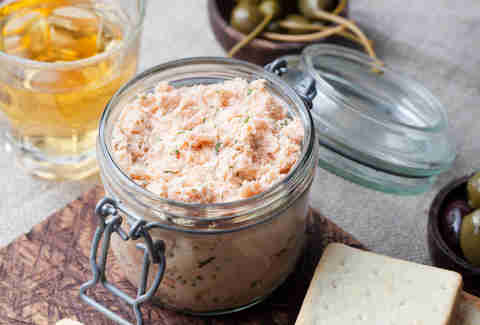 Alaska: Smoked salmon dip
The only living organisms that like salmon more than grizzlies are the Alaskans who live in harmony with them. A smoky fire scares off bears and helps turn salmon into fishy jerky. Alaskan barrooms have spawned a signature smoked salmon dip to help spread their bounty of the pink fish a little further throughout a night of drinks. Some cream cheese and mayonnaise are common binders, but it shouldn't be overdressed. The salmon is the star here.
Where to get a great one: Try some as it was intended, with fresh beer, at the Glacier Brewhouse in Anchorage.
Arizona: Cheese crisp
The Tucson cheese crisp is a delightful regional quirk found on the appetizer menu of Mexican bars around the state. This open-faced quesadilla is toasted until it is crisp and resembles a pizza. The traditional topping is simple: a long shred of green chile arranged in a star pattern. It's the perfect answer to the limp, flabby quesadillas served at bars elsewhere.
Where to get a great one: In Tucson, get the original cheese crisp, and margaritas at the bar at Casa Molina, or go new-school with braised short ribs at chainlet Blanco Tacos + Tequila.
Arkansas: Arkansas cheese dip
Yes, Arkansas is the state that invented "frickles," and for that we're grateful, but locals are just as likely to cozy up to a crock of Arkansas cheese dip. This fondue of oozing cheese differs from the Texan queso in two conspicuous ways. First, it comes in myriad colors, and it is often white, or pale yellow rather than that neon vibrant orange. Second, processed cheese is always included in the recipe in quantities great enough to discourage any congeeling between rounds. If you're really feeling this one, make sure to nab a ticket to Little Rock when they host the world's largest cheese dip competition in the world.
Where to get a great one: To experience a local classic, get the white version at Loca Luna in Little Rock while you're there.
California: Guacamole
California is responsible for 90% of the avocados produced in the US, and roughly the same percentage of our nation's vegetarians. Not just a burrito schmear, guacamole is found at sub shops and in bar rooms across the state. The sauce itself is an ancient Mesoamerican invention, but the creamy Hass Avocados that make it taste so good were developed in the Golden State. Plus, it goes well with all drinks that have a lime wedge floating in them.
Where to get a great one: Tommy's in San Francisco is more known for Tequila selection than their food, but their guacamole is perfect insurance against margarita reflux.
Colorado: Green chile everything
Coloradans smother everything in green chile, from fries to sliders to burritos. The versatile roasted green chile can be mouth-scorching or mild, feel like a stew or a soup, and be pork-filled or vegetarian. It's not limited to establishments with a Southwestern bend — dives and cocktail-driven spots of all stripes feature bar food with this all-purpose miracle.
Where to get a great one: Order a local beer and poutine with green chile-braised pork, cheddar curds, and crema at Denver's Euclid Hall.
Connecticut: Fried scallops
The Connecticut Coast is the gold-standard for seafood shacks. The most bar-friendly and poppable are fried and breaded scallops. Their small size allows these tender mollusks to slide over into the appetizer menu, away from larger breaded sea creatures. Too often these are buried under bigger fish in fried seafood baskets. Connecticut scallops are considered the best in the US, so it's best to let them shine on their own…. ok, maybe a little tartar sauce is ok.
Where to get a great one: The scallops at Friar Tuck's in Mystic as so good, you'll forget about the town's pizza.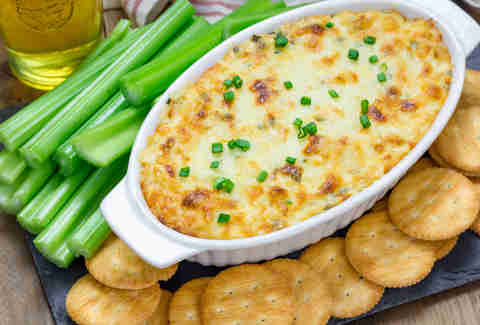 Delaware: Crab dip
Gooey, cheese-topped crab dip is a specialty on both sides of the Delmarva Peninsula, but Delawarriors seem to eat it with the most gusto. It's revered in the First State. The best stuff has a broiled layer of cheese on top and a creamy molten blue-crab spread hiding underneath. Saltines and some cold beer are all that you'll need.
Where to get a great one: Cantwell's Tavern in Odessa is one of the state's oldest bars and they serve a particularly cheesy version.
Florida: Conch fritters
Conch fritters are the official bar snack of the Caribbean. Good ones take a lot of chopped sea snail meat (yes that's what it is) and suspend it in a rich batter before deep frying. Baskets of these are prevalent in the Florida Keys, but can be found wherever beer and sand hook-up in the Sunshine State.
Where to get great ones: The historic and atmospheric choice for a basket of snail balls would be Sloppy Joe's Bar in Key West.
Georgia: Boiled peanuts
It's not just Jimmy Carter: all of Georgia is proud of their state's peanut farms. Boiled peanuts can be found at farm stands, and in down-home bars throughout the state. Eating a bag of boiled peanuts is a different experience from crunching on roasted ones. This "country caviar" has soft shells and succulent goober peas inside.
Where to get great ones: The Earl in Atlanta's peanut game is on point.
Hawaii: Pupu platter
Ah pupu, so rarely do four letters mean so much food. Rather than a single snack, Hawaii's iconic bar food is a tray full of finger foods often encircling a volcanic sterno core. Classic pupus include, but are hardly limited to: spring rolls, spareribs, sashimi, and chicken skewers.
Where to get a great one: They do a mean pupu at La Mariana Sailing Club in the Honolulu Marina. If pupu wasn't enough, the bar is also where Hawaii 5-0 was filmed.
Idaho: Finger steaks
You thought we were going to say potato didn't you? As the license plates boast, the state does indeed grow "famous potatoes," but they also are well known for these curious bar nibbles. Fingers steaks are basically chicken fingers, but with breaded beef instead. These little savories were invented in Boise, and originally made with filet mignon, which sure beats a nugget.
Where to get great ones: For the right blend of atmosphere and quality steak bites, check out bites at Stewart's in Caldwell.
Illinois: Popcorn
Yeah, popcorn's pretty ubiquitous in bars. But in Illinois, it's a way of life. Often given away for free, popcorn has to be one of the great bar snacks of all time. Several Midwestern states claim this iconic snack as theirs, but Illinois is the most deserving. First of all, they've officially declared it the state snack. Second of all, many believe that popcorn was invented by Chicago street vendors back in the 1890s. Honorable mention to Cracker Jacks and Beer Nuts, also Illinois inventions. Illinois is a bar snack powerhouse.
Where to get a great one: The corn is always flowing freely at old-school institution Burwood Tap.
Indiana: Sauerkraut balls
Many Midwestern states have the mark of German heritage, but few can claim as deliciously German a bar snack as sauerkraut balls. This Indiana beer hall innovation sees kraut suspended with sausage and cream cheese and packed into a snowball sized sphere. It is then breaded and fried before becoming the inspiration for a particularly stinky burp.
Where to get great ones: The classic place to try these is the Rathskeller in Indianapolis.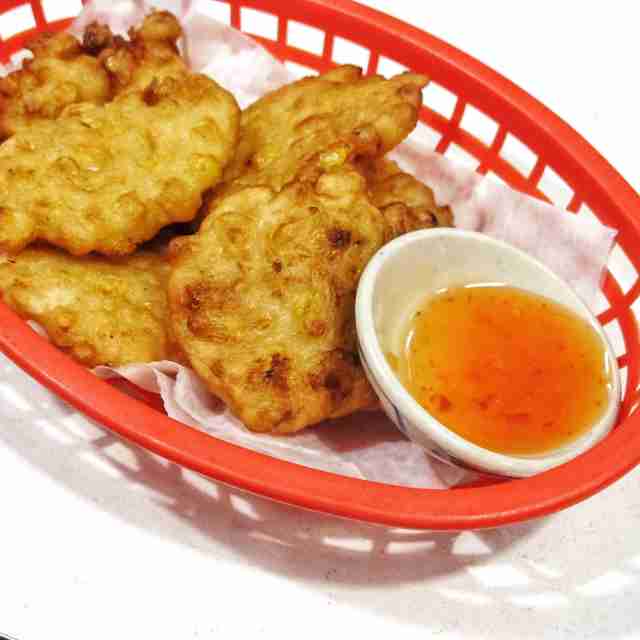 Iowa: Corn nuggets
Fried vegetables show up in many forms on bar menus around the US, but few capture a states essence as well as the Iowan corn nugget. Because of the state's vast corn fields, they show up on menus around the state. These are fritters packed with corn kernels. The batter may be flour, cornmeal, or a combination of those. Corn may be fresh, canned, or creamed. One thing is for sure, these are potential lip burners. Drink your beer and have some patience
Where to get great ones: For hot nuggets late into the night, pay a visit to the Half Moon Bar and Grill in Sioux City.
Kansas: Sliders
While sliders are on bar menus nationwide, they were invented in Kansas. Many say sliders were first flipped by proud ambassador, and Wichita native, White Castle. Since then, sliders have slid their way onto many a bar menu. These tiny hamburgers should be steamed for maximum slipperiness. Although all sorts of sandwiches are made into sliders, the only real slider is made of beef (back off pulled pork).
Where to get a great one: These days the best sliders in Wichita are at the Public Old Town.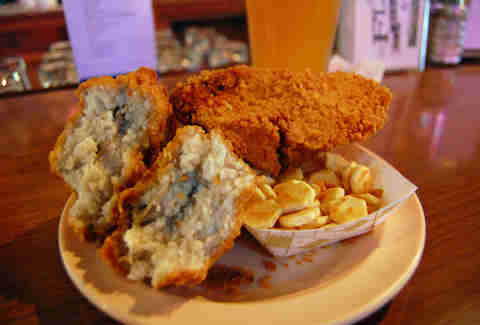 Kentucky: Rolled oysters
With respect to delicious Hall's beer cheese, Kentucky's most unique bar snack is the Louisville rolled oyster. Basically, consist of about 20% actual oyster, 80% batter… which it's rolled in. Get it? And while many caution against eating seafood in landlocked states, these marvels of ridiculousness are worth ignoring that old adage. And hey, maybe they're good dipped in beer cheese!
Where to get a great one: The Hungry Pelican's got your bread-to-oyster ratio on lock.
Louisiana: Chargrilled oysters
Urban Creole and rural Cajun foodways being different, we chose a bar snack that ties them together: oysters opened by heat rather than shucking. Simple grilled oysters are good, but the pinnacle of oyster grilling are chargrilled oysters found in bars around New Orleans, broiled with Parmesan, garlic and butter. Oysters Rockefeller are a richer variation that includes chopped spinach and a splash of absinthe. They are the perfect Crescent City bite.
Where to get a great one: Some of the best are at the original location of Drago's, just outside of town in Metairie.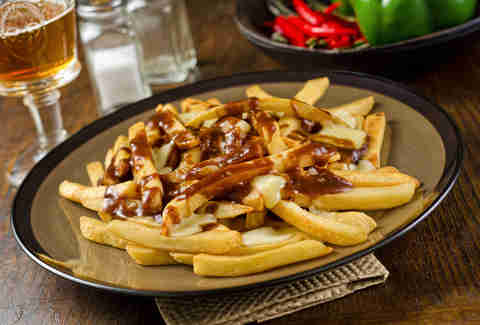 Maine: Poutine
Poutine is the classic Canadian bar food, and is a Quebecois invention. Maine, sharing so much of its border with Quebec, has absorbed their famous drunchie and made it their own with clever variations such as adding lobster, or putting their gravy and curds atop duck fat fries.
Where to get a great one: Blaze in Bangor has exceptional bar poutine with duck gravy.
Maryland: Old Bay fries
Old Bay Seasoning is as important to the flavor of most Maryland crab dishes as the crab itself. Marylanders put this stuff on everything, and we mean everything. One of the most common applications is simply a way to spice up fries. Fries with Old Bay on them are immediately special. Extra points for places that top with fresh crab or finish with crab sauce, making for loaded fries Maryland-style.
Where to get great ones: The classic choice for Old Bay fries is at the Waterfront Hotel in Baltimore, the bar has been an institution since 1771.
Massachusetts: Fried clams
The New England coast is lined with clam shacks that inspired bars across the country to serve fried clam strips. Many say the first fried clams come from Woodman's of Essex in Massachusetts. No matter what, this state is full of drinking establishments that serve fried bivalves in both strips or in the far superior whole-belly form.
Where to get a great one: The best in Boston are at B&G Oyster: they have a bar to belly up for an ale and a basket of whole-bellies.
Michigan: Better Made chips
What do pasties, coney dogs, burgers, and beer have in common? If you order one in a bar in Michigan, the odds of getting a little yellow bag of Detroit's Better Made alongside them are pretty good. They're basically thicker, greasier, and more addictive Lay's, and have become as much a bar staple in the Mitten as mozz sticks and curly fries.
Where to get a great one: They're the same everywhere, but they're perfectly great for sopping up the leftover ketchup and juices from a burger at Crunchy's in East Lansing.
Minnesota: Walleye cakes
All those lakes make for some good fishing, and Minnesota is proud of its pinkish lake fish, the walleye. The sloppiest of preparations is the mashup of some walleye meat with aromatic vegetables and an egg binder. These are basically Midwestern-style crab cakes. Minnesota is also responsible for one of America's greatest bar entrées: The Jucy Lucy.
Where to get a great one: The legendary log cabin Giggles' Campfire Grill serves an iconic version.
Mississippi: Hot tamales
Mississippi has been boiling, not steaming, "hot tamales" since back before Robert Johnson sang them into sexual innuendo. They're different from the meal-sized tamales of Latin America, being only the size of a Twinkie, and a uniquely Southern specialty. Coarser corn and more generous meaty fillings make this style unique too. Some bars make their own, but many team up with traditional street carts to feed patrons. Pork is usually the filling, but beef and turkey are popular variations. An ice-cold beer is always the best companion.
Where to get a great one: For great tamales in a bar atmosphere, check out the Home Town Restaurant in Inverness.
Missouri: Toasted ravioli
There is some debate as to who invented toasted raviolis, but all of the origin stories involve a non-Italian chef accidentally dumping pasta into the frier instead of boiling water. Sometimes it feels like bar menus are a race to the frier anyway. Of the many things that get deep fried in this country, toasted ravioli has the most specific sense of place: St. Louis. These golden beauties — basically pasta-bound mozz sticks — can be found at Italian delis, restaurants and markets, and are also seen on bar menus proud of the city's unusual local specialty.
Where to get great ones: St. Louis' The Post Sports Bar is one of the bars in town that adds local touches to their appetizer menu.
Montana: Rocky Mountain oysters
Deep-fried cow tesiticles are an adventurous bite for some, and a twice-a-steer treat for ranchers. Colorado fries off their share of nutty nuggets, but Big Sky Country has five times more testes per capita. A local nickname is "Montana tendergroins," which hints at their supple texture. All the usual oyster dressings are applied to these as well, and cocktail sauce is especially popular. Adding hot sauce makes for "Great Balls of Fire."
Where to get great ones: A real cattleman joint to order these is Stacey's Old Faithful Bar in Gallatin Gateway.
Nebraska: Bierock
Russians would recognize bierock as piroshki, a hand pie filled with cabbage, ground beef, and onions. These meaty pockets are distinctively Nebraskan and are served from convenience stores, drive-thru windows, and, yes, at bars. The Runza chainelongated bierocks and started filling them with zany, Hot Pocket-style fillings like "cheese steak." A drink in one hand and a bierock in the other, and life is good.
Where to get a great one: Bierock can be had seated with a beer at the mini-chain Local Beer, Patio and Kitchen.
Nevada: Shrimp cocktail
The shrimp cocktail was both invented and perfected at casinos in Nevada. You can still get them for a buck at the Golden Nugget. These bargain ones are just a small plastic cup of bay shrimp with a squirt of ketchup-style sauce. High-rollers can find divine, deveined versions with colossal shrimp and tangy cocktail sauce served in chilled martini glasses at higher-end casino bars. Which version you end up eating may depend on how hot the dice are that day.
Where to get a great one: The Golden Nugget serves the classic version, the Oyster Bar at the Palace Station Casino serves the best.
New Hampshire: Onion rings
New Hampshire treasures its 25 miles of coastline. During the summer the state descends upon their beloved coastal clam shacks, lobster pounds, and beach bars. The best bar food on the beach or otherwise, are onion rings. Sure, that seems generic, but hear us out. New Hampshire bars favor a style that is typical of New England seafood shacks. These have long thin threads of onions with a crisp, pale, flakey coating that shatters all over the bar. This is a result of fry cooks using the same seafood dredge on their onions, but it results in tasty and unique rings.
Where to get great ones: Bernie's Beach Bar in Hampton serves its rings on a rooftop patio in full view of the beach.
New Jersey: Disco fries
This Jersey diner classic is suspiciously similar to poutine, which is arguably the world's greatest bar food. Seeing this connection, bars are starting to offer this midnight snack. Disco fries differ from poutine in that they're usually made with thicker fries, darker gravy, and covered with a whole-milk mozzarella rather than cheddar curds. Some people use Whiz, but that is really more of a funk fry than a disco fry.
Where to get great ones: Take a break from the diner and get tricked out pub-style versions at The Rocky Hill Inn in Rock Hill.
New Mexico: Sopapillas
Sopapillas might as well be the New Mexican state food. These pillowy fried dough cakes can be sweet or savor: stuffed with taco fixings or smothered with chile sauce or honey. Any way they come, they compliment drinks excellently. Cantinas often offer them alongside chips and salsa, which offers the drinker sufficient fortification to excuse an extra margarita.
Where to get a great one: Hit the bar at Tomasita's, one of the state's most famous restaurants. They have locations in Santa Fe and Albuquerque.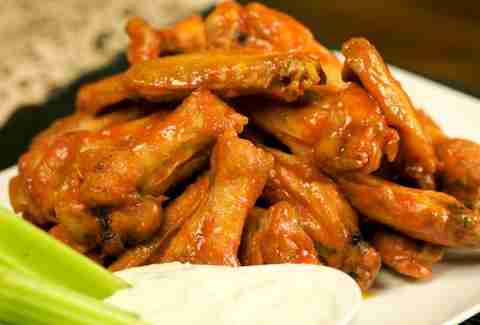 New York: Buffalo wings
Wings are probably America's most famous bar snack. They appear on bar menus from coast to coast, and inspire American-style chains internationally. As the name suggests, they were invented in Buffalo, New York at the Anchor Bar, and this is where you should eat them. The original Buffalo wing was invented on the fly in 1964, when wings intended for soup stock ended up in the fryer to feed a hungry late-night crowd. Good wings must be done like they do it in Buffalo. They should be fried, not baked or sautéed. Their charms are obvious. They are chew toys for beer drinkers. Hand-held sticks of meat slathered in tangy hot sauce. Today, they are as much a part of sports bar culture as blaming referees for your team's loss.
Where to get great ones: Because you have to eat where it all began, hit up Anchor Bar in Buffalo.
North Carolina: Hush puppies
Hush puppies are a Southern classic side dish. Deep-fried corn meal pellets are simple, filling hard-times food. You find them at BBQ joints, cafeterias, oyster bars, and fish camps around the US, and especially in the Southeast. Their spiritual home is in North Carolina, where baskets of these bronze orbs start meals and salt up drinking sessions. Being that they're basically fried cornbread balls, they can be complemented with a slather of honey butter.
Where to get great ones: They come bottomless at the 316 Oyster Bar and Seafood Grill in Fayetteville.
North Dakota: Knoephla
North Dakota has a unique blend of German, Russian, and Scandinavian influences which leads to a distinctive regional cuisine. Knoephla are tiny dumplings that sometimes show up in soup, and sometimes as kase knoephla, or cheese buttons. This is a bowl of small dumplings filled with farmer's cheese, tossed in a sauce of butter, and then topped with croutons. They are said to be invented by Germans from Russia that moved to North Dakota.
Where to get great ones: For a zesty version of knoephla with sauerkraut and bacon, check out Humpback Sally's in Bismarck.
Ohio: Pierogies
Chili aside, Ohio's main culinary influence is from the Polish. Besides being a regional capital for polka, Cleveland enjoys a robust pierogi scene. These are dumplings stuffed with potato, fresh farmer's cheese, or sauerkraut and mushroom. They're good boiled, but great when fried in butter with onions. Crisped pasta dough stuffed with mashed potatoes is about the best drinking bite we can imagine.
Where to get a great one: The ideal place to try these at the iconic Sokolowski's University Inn in Cleveland.
Oklahoma: Fried okra
Fried okra is a popular snack across the South and the Great Plains, but it's best represented in Oklahoma. The state has a real passion for the stuff. In fact, some call it "Okrahoma." Ok, no one calls it that, but they could! When Okra is breaded and fried, it releases much less of the dreaded slime, and makes for a poppable, filling fried veggie.
Where to get great ones: The okra is a must try at The Drum Room in Oklahoma City.
Oregon: Tater tots
Tater tots were invented by the Ore-Ida company in 1953. The name for the potato mogul comes from a portmanteau of Oregon and Idaho, the states where the company's potato farms are located. Oregon wins because it's the state where the Ore-Ida processing facility is located, and because it's hard to find a bar in Portland that doesn't serve tots… in fact, Portlanders are largely credited with the current tater tot obsession that has seen them go from lunchroom snack to grown-up indulgence There are many forms of fried reformed potatoes served at bars, but none other can be tossed up in the air and caught in your mouth. For that reason, tots win. They go with all sorts of dips, hit with cajun spices, or smothered with sauces and toppings as "totchos.
Where to get great ones: Speaking of totchos, late pubman Jim Parker of Lompoc Brewing's Oaks Bottom Public House is credited with inventing them, so that's a perfectly great place to start.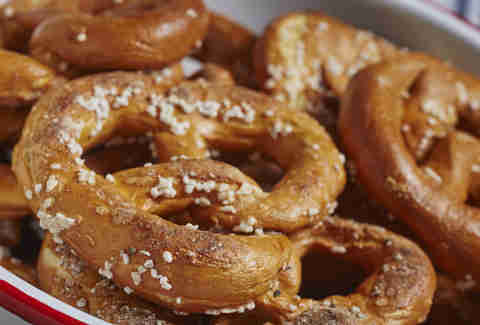 Pennsylvania: Dutch pretzels
Of the many homespun specialties that the Amish sell at farmers markets, pretzels are the one that has most successfully entered the debaucherous world of the saloon. You might find hard pretzels in the form of sticks or nibs, but the best Pennsylvania Dutch style pretzels are thick, dark, and perfectly dry out your mouth for the next sip of beer. America's first pretzel bakery was Julius Sturgis of Lititz, Pennsylvania. Any bar that serves these for free is a class above the rest.
Where to get a great one: Excellent soft pretzels are common on Pittsburgh bar menus but we like the free crunchy sticks at The Korner Pub.
Rhode Island: Calamari
Rhode Island is a culinary powerhouse despite its tiny size. It's also one of the few states with an official state snack: calamari. Classic Rhode Island-style calamari, is associated with Point Judith, "The Squid Capital of the United States." The preparation is a bit different than what they serve at red sauce Italian restaurants in other parts of the country: Rhode Island style calamari first breaded, then fried and tossed with sliced banana peppers and served with garlic butter.
Where to get a great one: The Waterman Grille in Providence does a fine version of the classic.
South Carolina: Pimento cheese
Pimento Cheese is a classic Southern spread, but no other state loves it so much that they make sandwiches out of it out of it at bars around South Carolina and spread it on top of hamburgers. It's a complex cheddar and cream cheese dip studded with sweet red peppers and seasoned with lots of tangy seasonings.
Where to get a great one: They do a nice spread at the Tattooed Moose in Charleston.
South Dakota: Chislic
South Dakota's most famous dish happens to make a great bar snack. Chislic is just cubes of meat, usually lamb or beef, almost always skewered onto toothpicks. The toothpicks come in handy after a few cubes. This bar snack has a useful dental hygiene bundled in! Unlike fire-grilled shish kabobs, these cubes of meat are usually deep fried, making for a crispier exterior and a few extra precious calories.
Where to get a great one: The funky Safari Bar in Renner serves cubes by the pile.
Tennessee: BBQ Nachos
Nachos, being the best bar snack of all time, show up on this list twice. BBQ nachos are a completely different beast from the Tex-Mex variety. The chips are usually the cheapest ones possible, and the cheese is always the neon orange whiz type. But it's the meat that makes this Memphis junk food so delicious. Pitmasters use their house smoke pulled pork to crown the top. Dive bars might just throw a shoulder in a slow cooker with some barbecue sauce. When thin red, tangy sauce and gooey whiz collide they complete each other. We like ours with pickled jalapeño rings. BBQ Nachos are said to have been invented at the Germantown Commissary BBQ, out on the outskirts of Bluff City.
Where to get great ones: For a BBQ joint where the bar isn't an afterthought, hit the nearest Corky's BBQ.
Texas: Nachos
Nachos are the best bar snack ever invented. While they were technically invented right across the Mexican frontier in Piedras Negras, they have developed into one of the highest expressions of Tex-Mex cuisine, and they appear on bar menus all over the United States. The best Texan nachos will be made methodically, with every chip dressed with refried beans and broiled cheese. Some add grilled meats or chili. You might go for a dip in guacamole and sour cream. It's up to you. Canned black olives and jalapenos are welcome additions. Multiplying all of the meats, cheeses and various toppings employed at different places, there are nearly endless variations, which is what has made this one of the most well-traveled bar foods in the US.
Where to get great ones: Slab BBQ and Beer in Austin was good enough for Guy Fieri… and ranked up with our 21 best nachos in America.
Utah: Fry sauce
Utah is a state that is more famous for milkshakes than martinis, and so their most famous bar snack is something more associated with Utah drive-ins: fry sauce. Make no mistake, most anywhere that serves fries in Utah — bar or otherwise — serves fry sauce. It's usually just a carefully measured mix of mayonnaise and ketchup, blended until it's the color of a sunset. Obviously, it's served with fries, which makes this less a simple condiment, and more an assumed snack of fry dunking.
Where to get a great one: Beer Bar in Salt Lake City is the best place to combine some cold ones, in fact, hundreds of different ones, with creamy ketchup.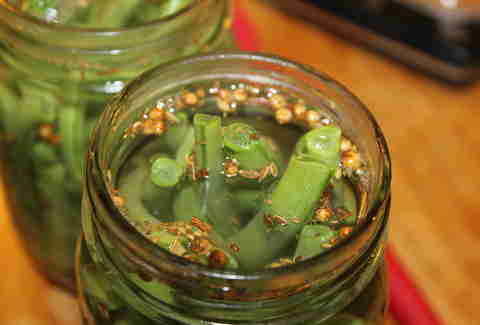 Vermont: Dilly beans
Vermont has a passion for pickling, and is particularly known for dill infused green beans. All things pickled make great bar snacks, but green beans evoke the Green Hills and cannery communes of Vermont. They were developed here because the snappy green legumes have a short season, and must be preserved. We can eat a whole jar of these over a drinking session, especially when the pickler makes them a little spicy. They are nature's veggie fingers.
Where to get great ones: At the Radio Bean complex of bars in Burlington you can snack on dilly beans, or they'll even make you a martini shaken with their juices.
Virginia: Blister fried peanuts
Peanuts are amongst the most common bar snacks, but Virgina is the only place that loves these ground legumes enough to make soup out of them. The highest expression of peanuts are those that are boiled in water, then roasted, and then balanced in peanut oil for just long enough to develop some blisters and an irresistible crunch. These are peanuts perfected, with no need for the bar staff to sweep up mounds of shells at the end of the night.
Where to get great ones: For an extra gourmet kick try the rosemary smoked peanuts at Postbellum in Richmond.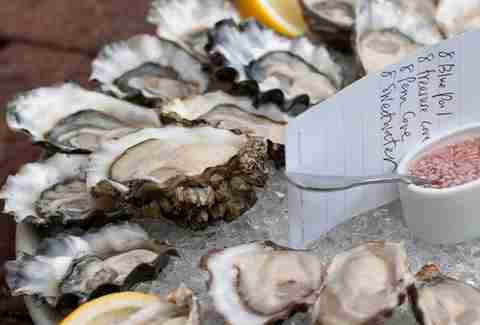 Washington: Oysters on the half shell
Oysters are a bar menu favorite on all sides of the United States coast. "Buck-a-Shuck" happy hours are happy hour classics. Famous oyster varieties like Kumamoto or Shigoku are some of the most sought after, and Willapa Bay on the Southern Washington Coast is the source for one sixth of the United State's oyster production. Seattle locavores know how good they have it, and so they suck down fresh oysters by the dozen at bars all around town.
Where to get a great one: Seattle's aptly named The Walrus and the Carpenter happens to serve some of the best oysters in the entire country, so it's a must visit.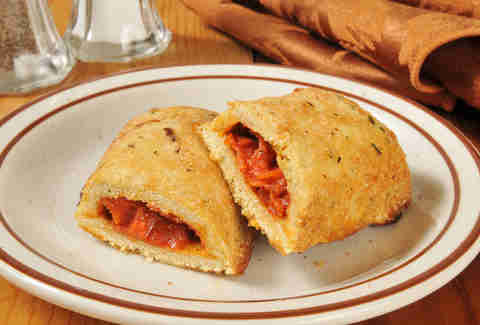 West Virginia: Pepperoni rolls
Pepperoni rolls were originally developed by Italian immigrants as pocket-sized sustenance for coal miners. They are the state's emblematic snack. It sounds simple. It's a roll with some chunks of pepperoni baked in. Cheese may or may not be included. When the roll is baked, the orange oils infuse into the bread. Originally, you'd find these at Italian bakeries and pizzerias, but increasingly bars are serving them. Why not? They're so good with beer, and reflect a pride in West Virginia's eccentric local specialties.
Where to get a great one: Meagher's Irish Pub in Bridgeport offers an award-winning pepperoni roll served alongside Irish hospitality.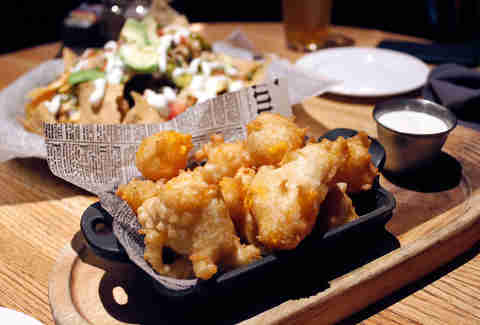 Wisconsin: Fried cheese curds
This may be the unhealthiest snack on this list, which is already bursting with deep-fried and cheese-covered selections. The only way to up the ante… just go ahead and deep-fry some cheese. People have been deep-frying cheese for centuries, and they do it all over the world. However, a basket full of golden curds is especially wicked. The squeaky cheese gets stretchy when fried, and is easily snacked on by the handful. It's way too easy to eat a pound of these.
Where to get great ones: The Old Fashioned in Madison celebrates all things Wisconsin, so of course they have great fried curds.
Wyoming: Jerky
Wyoming's tough. Many bars just have jars of pickled eggs or bags of chips. But the one constant is beef. Jerky is camping fuel and a road trip reliever. You can make it out of all sorts of meats and fish. Wyoming, being a ranch culture, has a proud scene of great options. The state has a particularly good selection of game jerkies made from elk and bison. Richer meat takes well to a sweet salty brine. We like ours the same way that many in Wyoming do, with whiskey.
Where to get a great one: Even if you can't afford to stay at the Four Seasons, you should stop in for some buffalo jerky on the charcuterie plate at their restaurant, the Westbank Grill in Jackson.
All credit for this awesome list goes to Thrillist. https://www.thrillist.com/eat/nation/50-states-of-bar-snacks