A silky, creamy garlic sauce with a hint of lemon coats crispy, buttery scallops! With only a handful of ingredients, you're minutes away from having the most incredible Creamy Garlic Scallops on your dinner table! People will think there's a hidden chef in your kitchen!

SCALLOPS
You have all been writing in to tell us how much you have been loving these Seared Garlic Butter Scallops that I HAD to try them in a creamy sauce! You guys are going to LOVE this low carb creamy garlic scallops recipe!
HOW TO COOK SCALLOPS
This scallop recipe is just as easy as the original, with a creamy sauce consisting of 5 ingredients. FIVE!
Butter — unsalted is the best option which allows you to better adjust your seasonings.
Garlic — minced or finely diced. Use fresh if you can.
White wine — completely optional! You can use broth (or stock) as a substitute or leave it out all together!
Lemon juice — I only use 1 tablespoon in this recipe as I find it's just enough in a creamy sauce like this one.
Cream — use heavy cream, thickened cream or evaporated milk.
Understanding how quickly scallops cook means you'll never be intimidated again! They only take four to five minutes to cook — that's it! You'll have no chance of messing them up from now on. Guaranteed.
Heat an oiled skillet or pan until it's sizzling. Key step right here. You want them to sizzle and crisp to a golden colour on the outside.
The first scallop should sizzle as soon as it hits the oil. If it doesn't, wait and let the pan continue heating before adding any more.
Use a large pan to avoid over crowding, or cook in batches to make sure they are at least 1-inch apart.
Sear them without moving them for about 2-3 minutes on each side. Done!
Then go straight into making your sauce. Creamy garlic scallops in minutes!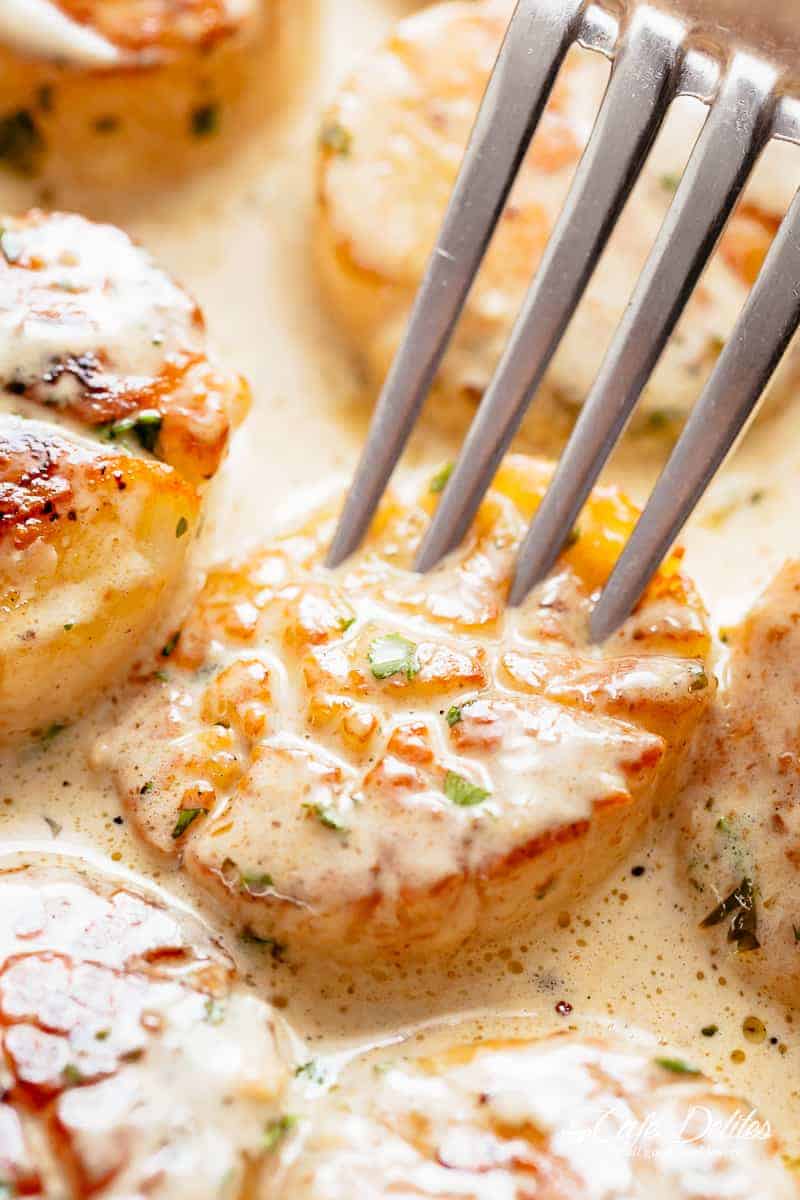 HOW DO YOU MAKE CREAMY GARLIC SCALLOPS?
Melt butter in the same pan as the scallops, scraping up any delicious browned bits. This is where the flavour is!
Add garlic, minced or crushed.
Pour in a good quality dry white wine, like Sauv Blanc or Pinot Grigio and let reduce to half.
Add cream.
Simmer.
Stir in lemon juice off the heat and add the scallops back into the pan to serve.
Serve your creamy garlic scallops with as much sauce as you want! There's an abundance here.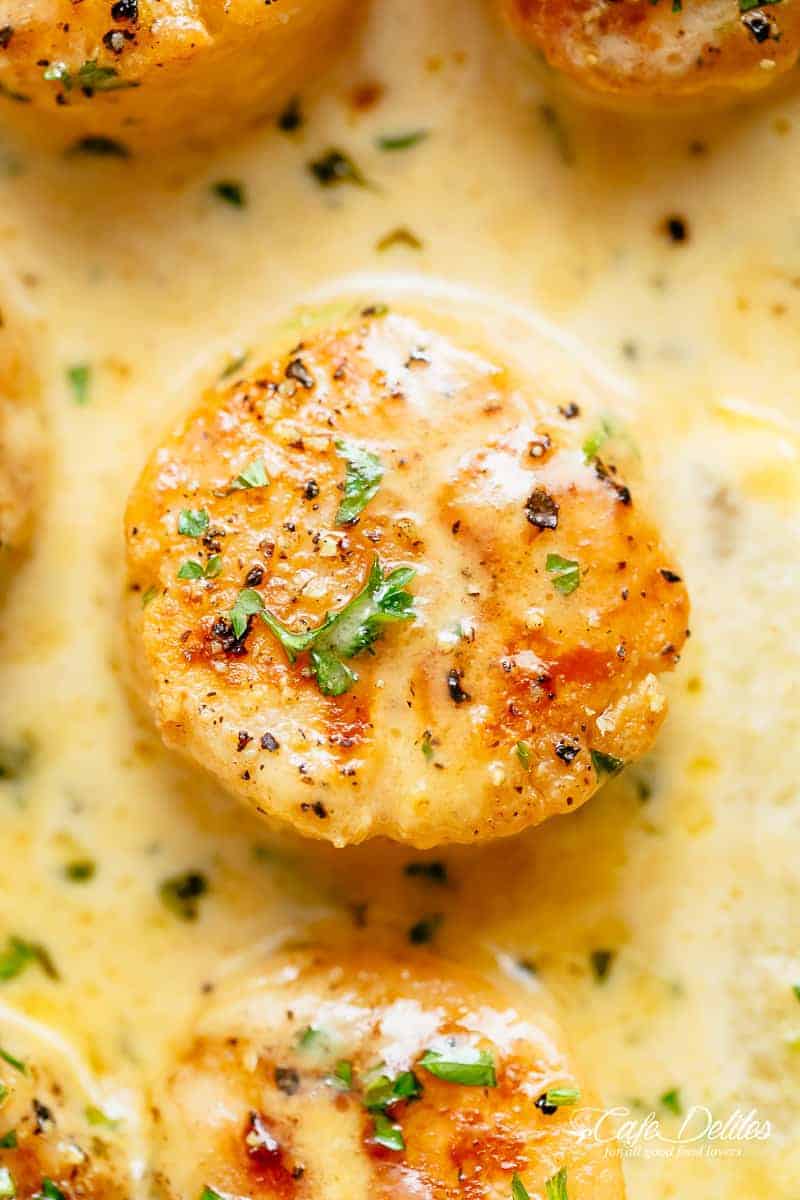 HOW TO PREPARE SCALLOPS
Try to find scallops without the bright orange or coral coloured crescent-shaped part still attached (or roe). The orange part can be a little bitter, however some people do like this part of the scallop. It's personal preference.
If you can only find them with the roe attached, you can pull it off and discard it. If you have bought whole scallops, you will need to remove that and the muscle that attaches the scallop to the shell. For this reason, we buy frozen wild caught scallops without the roe.
HOW TO THAW SCALLOPS
Thaw scallops in a bowl of cold water for about 10-20 minutes until thawed completely, or overnight in the refrigerator.
Make sure to thoroughly pat them dry with paper towel to absorb all the liquid before searing.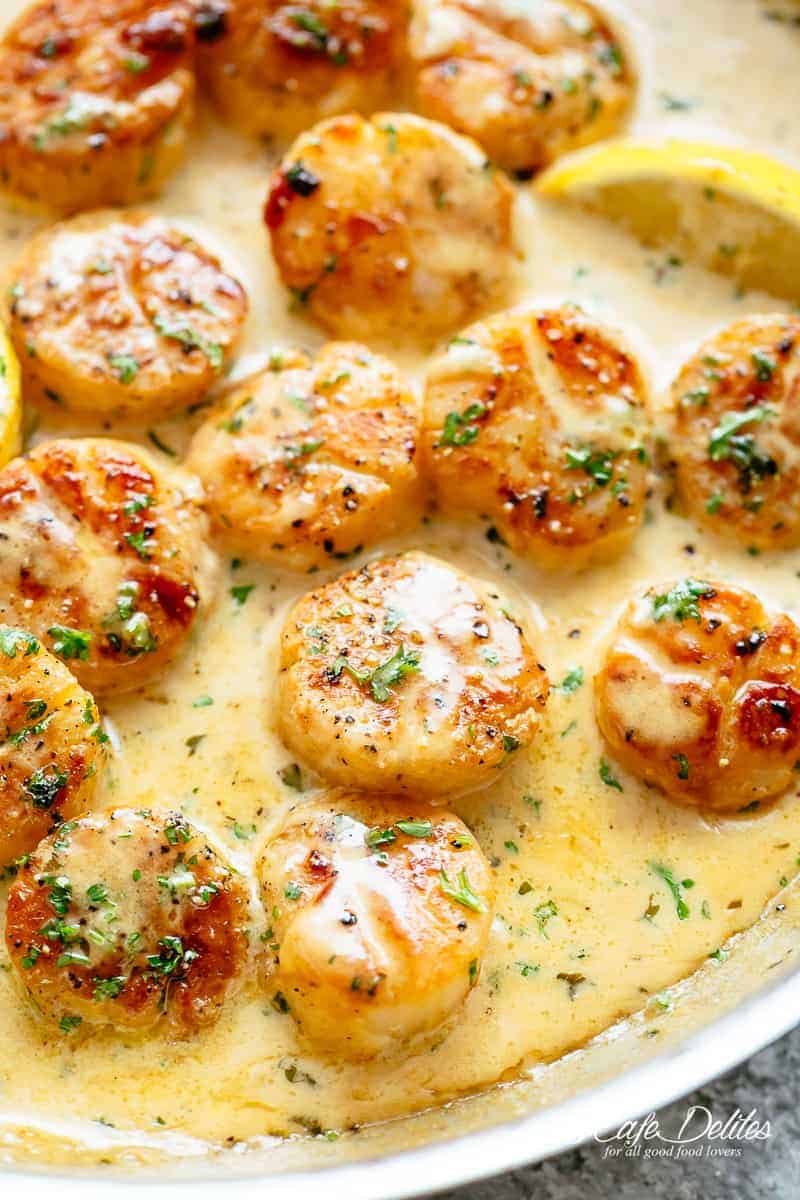 All credit for this delicious recipe goes to Cafe Delites. https://cafedelites.com/creamy-garlic-scallops/