This delicious dish will come together in just twenty minutes! All you have to do is boil up some pasta and sauté your shrimp in a pool of garlic-butter-herb goodness. Once that's ready, just toss in your pasta and some fresh greens. That's it. It's easy, quick, and comforting in any kind of weather!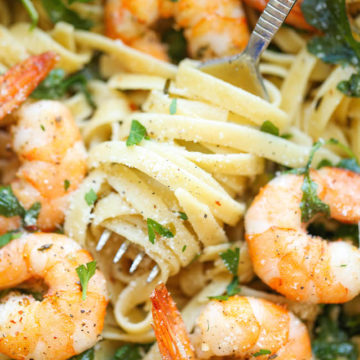 Yield: 4 servings
prep time: 10 minutes
cook time: 10 minutes
total time: 20 minutes
An easy peasy pasta dish that's simple, flavorful and incredibly hearty. And all you need is 20 min to whip this up!
Directions:
In a large pot of boiling salted water, cook pasta according to package instructions; drain well.
Season shrimp with salt and pepper, to taste; set aside.
Melt 2 tablespoons butter in a large skillet over medium high heat. Add garlic, oregano and red pepper flakes, and cook, stirring frequently, until fragrant, about 1-2 minutes.
Add shrimp and cook, stirring occasionally, until pink, about 2-3 minutes; set aside.
Melt remaining 6 tablespoons butter in the skillet. Stir in pasta, arugula and Parmesan until arugula begins to wilt, about 2 minutes. Stir in shrimp.
Serve immediately, garnished with parsley, if desired.
All credit for this delicious recipe goes to Damn Delicious. https://damndelicious.net/2015/03/13/garlic-butter-shrimp-pasta/