What is surf and turf?
Surf and turf is the land and the sea all on one plate. It is steak (turf) with seafood (surf) like lobster, shrimp, prawns or crab legs. Popularized in the 1960's, this dish represents two gourmet tastes placed together in a meal. This dish has recently experienced a resurgence in popularity. It is great way to indulge for a special occasion or a date night.
Aside from having both steak and seafood on a plate, the "surf" and "turf" often share a sauce, like a garlic butter sauce, to unite the flavors of the meat and seafood. This recipe can be served with the surf on top of the turf or the surf can be served alongside the turf. If the surf is larger than the turf you may want to serve them next to each other.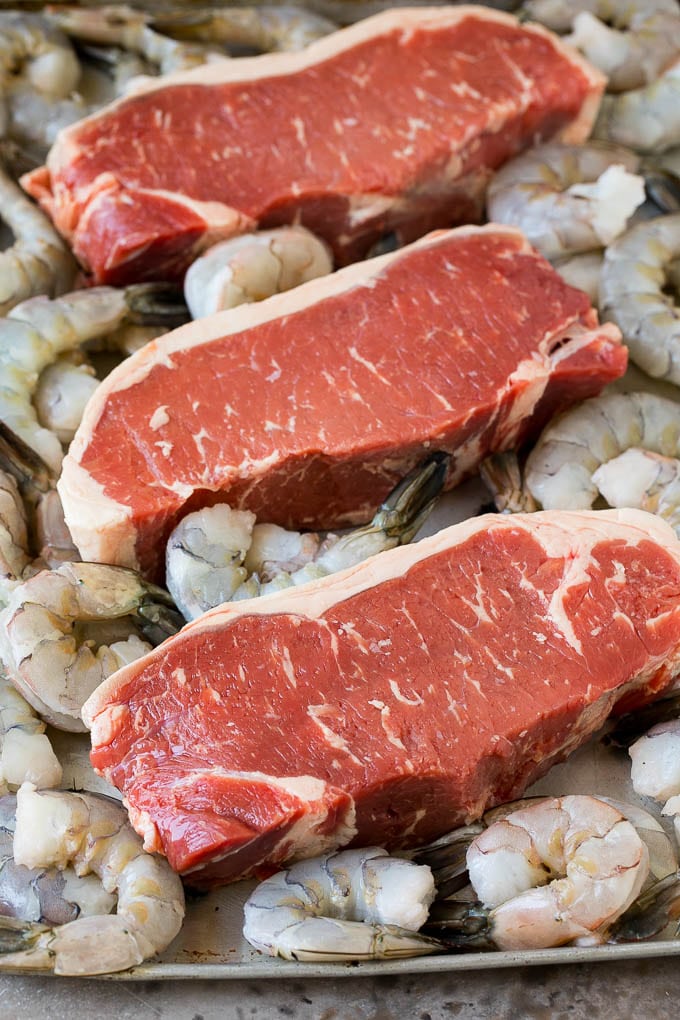 How do you make surf and turf?
Steak and shrimp cook at different rates, so I recommend cooking the steak first, then while the meat is resting, cook the shrimp. The shrimp and steak are simply cooked in a pan with olive oil, salt and pepper for seasoning. The finishing touch is a generous amount of homemade garlic and herb butter, which gets drizzled over the meat and shrimp. Add a few side dishes, and you've got a fancy and delicious dinner.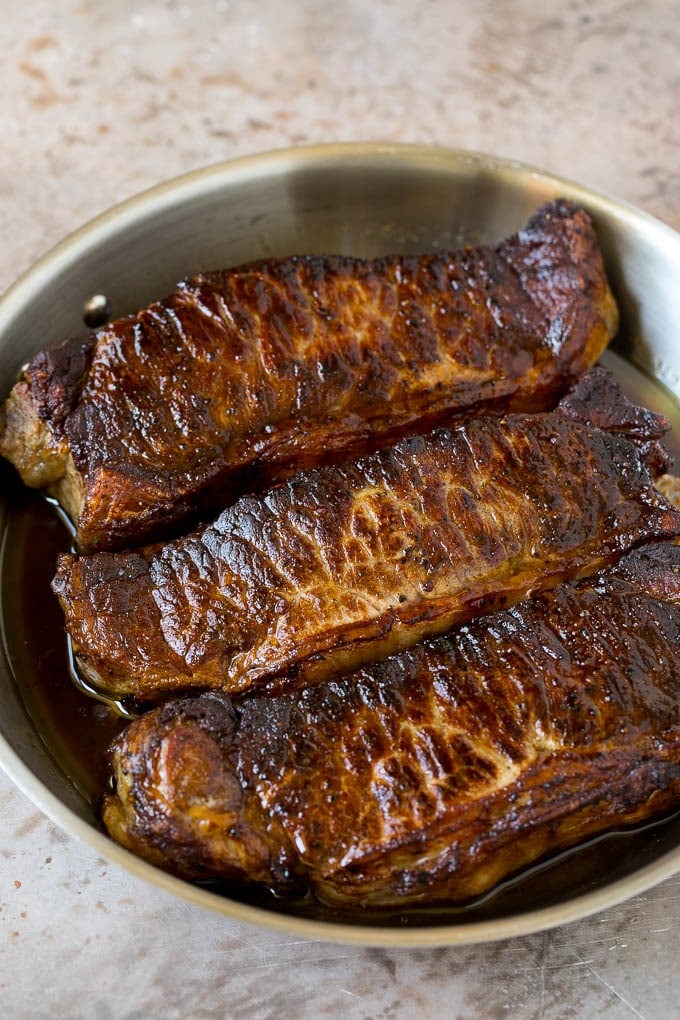 STEAK TEMPERATURES
The best way to gauge when your strip steak is done is to use a digital probe thermometer. You can insert your thermometer into the thickest part of your meat to determine whether the steak is at your preferred level of doneness. I personally like to cook my steaks to medium. I don't recommend cooking your steak over 150 degrees F as it will be more likely to be tough or dry.
Keep in mind that steaks should rest for at least 5 minutes before you cut into them, so it's best to take them off the heat a few degrees before you reach your desired temperature, as they'll continue to cook as they rest.
Rare: 130 degrees F
Medium Rare: 135 degrees F
Medium: 145 degrees F
Medium Well: 150 degrees F
Well Done: 160 degrees F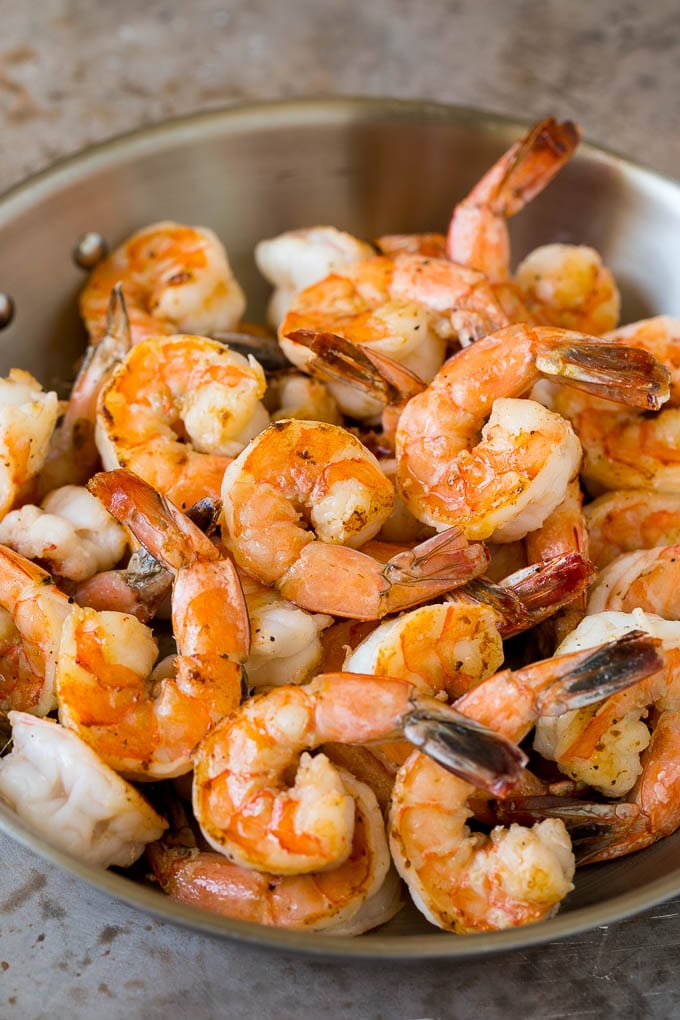 Surf and turf variations
You can mix and match your protein options to create your preferred version of this classic dish.
Surf: Try rib eye, filet mignon or sirloin steak instead of New York strip. You could also use rack of lamb or thick bone-in pork chops.
Turf: You can use your favorite seafood such as scallops, lobster or crab legs.
Sauce: While garlic butter is a classic, you can mix things up a bit by flavoring your butter with sriracha, lime juice, or other fresh herbs such as dill, cilantro or chives.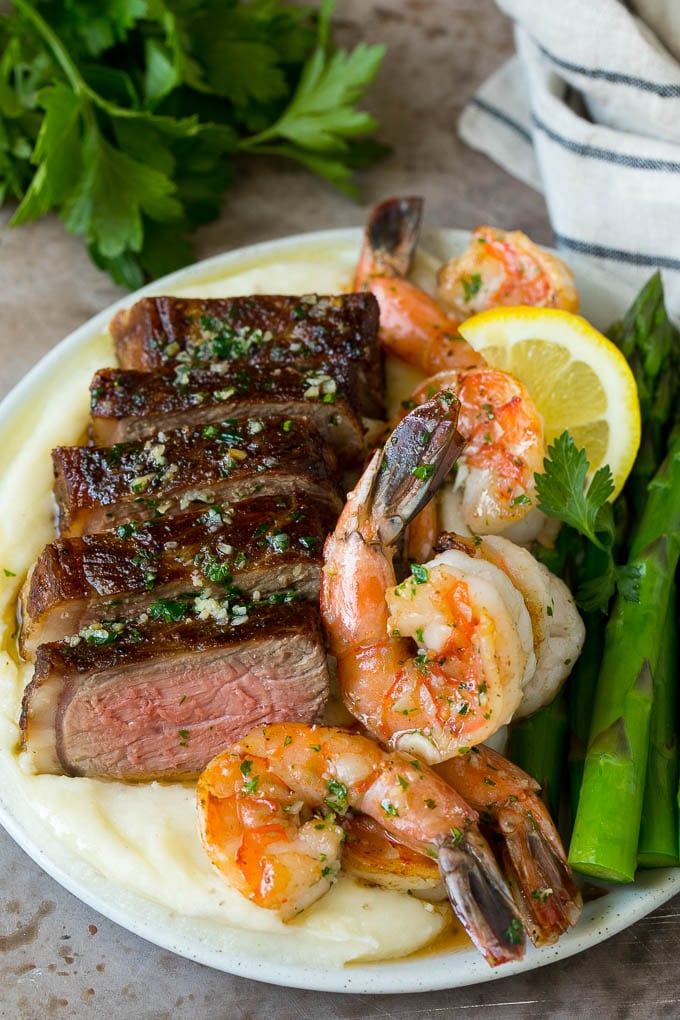 This recipe makes a classic surf and turf with New York strip steak and shrimp that you will want to make for friends, family or a special someone in your life. There is a reason why surf and turf has stood the test of time; it is decadent and delicious!
Side dishes to pair with your steak and shrimp
Surf and Turf
This surf and turf recipe features pan seared steaks and jumbo shrimp, all smothered in a garlic butter sauce. An easy yet elegant meal that's perfect for a special occasion!
Course Main
Cuisine American
Keyword steak and shrimp, surf and turf
Prep Time 10 minutes
Cook Time 20 minutes
Total Time 30 minutes
Servings
Calories 624kcal
Instructions
Heat one tablespoon of olive oil over high heat in a large pan. Season the steak and shrimp with salt and pepper to taste.
Place the steak in the pan. Cook undisturbed for 5-7 minutes per side, or until desired level of doneness is achieved. I recommend using a meat thermometer to monitor the temperature of your steak.
Remove the steak from the pan and cover with foil to keep warm.
Wipe out the pan with a paper towel. Add the remaining tablespoon of oil to the pan.
Add the shrimp and cook for 3-4 minute or until pink and opaque.
Remove the shrimp from the pan.
Melt the butter in the pan. Add the garlic and cook for 30 seconds. Stir in 1 tablespoon of the parsley.
Place the steaks back in the pan. Arrange the shrimp on top of the steaks.
Spoon the garlic butter sauce over the steak and shrimp. Sprinkle with remaining tablespoon of parsley, then serve.
Nutrition
Calories: 624kcal | Carbohydrates: 1g | Protein: 46g | Fat: 39g | Saturated Fat: 20g | Cholesterol: 292mg | Sodium: 679mg | Potassium: 501mg | Sugar: 1g | Vitamin A: 550IU | Vitamin C: 2.6mg | Calcium: 99mg | Iron: 4.1mg
All credit for this delicious recipe goes to Dinner At The Zoo! https://www.dinneratthezoo.com/surf-and-turf-recipe/